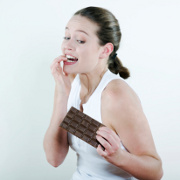 Photo: Getty Images
According to a recent study published in the June issue of Physiology and Behavior, eating dark chocolate may better your eyesight. In an online article, MSNBC stated, ʺDark chocolate might improve your ability to see in low-contrast situations, such as poor weather.ʺ
If you suffer from low-contrast sensitivity, also known as low-contrast situations or functional vision, you may need extra light to read or have issues with night driving. As one website stated, think of it as your ʺcrispness of vision.ʺ
But, before you invade the candy counter or eat a box of chocolate remember the study said, ʺEating one ounce or two small dark chocolate squares improves the blood flow to the retina up to several hours after consumption.ʺ
The University of Reading researchers believe it is the cocoa, or cacoa flavanols in dark chocolate, which may improve vision. Yes ladies and gentleman, flavonols, also known as flavonoids, are our friends. Flavonols can be found in the following food items:
• grapes
• blueberries
• cranberries
• green tea
• black tea
• red wine
• apples
• cocoa
Flavonols have recently been in the news for their health benefits. According to RealAge.com, ʺFlavonoids are plant-based compounds with powerful antioxidant properties.ʺ
England's University of Reading researchers conducted the study with 30 women and men between the ages of 18 to 25.
First, the candidates ate a dark chocolate bar with high contents of flavanols and were tested two hours later for vision and cognitive performance. One week later, the candidates ate a white chocolate bar with very low contents of flavanols and were tested two hours later for vision and cognitive performance.
The Reading research team noted, they tested the candidates with an eye test ʺby reading more numbers that become progressively more similar in their luminance to their background.ʺ
The results: ʺResearchers found cocoa flavanols improved visual contrast sensitivity and reduced the time required to detect motion direction.ʺ
According to MSNBC, ʺOther research suggests cocoa flavanol's positive impact on blood flow is even greater in folks over the age of 25.ʺ
Also, there are additional benefits of dark chocolate. MSNBC states dark chocolate can favorably affect cholesterol levels, improve platelet function and insulin sensitivity, lower blood pressure and improve brain function.
Finally, if you have any doubt about the health properties of dark chocolate, an article in the Daily Mail said, ʺRaw cacao powder has nearly four times the antioxidant content of regular dark chocolate, 20 times more than blueberries and 119 times more than bananas.ʺ
See you in the candy aisle!
Sources:
Rubin, R. The Body Odd - Skip the carrots. Chocolate improves eyesight, too. The Body Odd. Retrieved August 15, 2011, from http://bodyodd.msnbc.msn.com/_news/2011/08/05/7268604-skip-the-carrots-chocolate-improves-eyesight-too
Dark Chocolate Benefits Eyesight, Brain Health. Food Product Design. Retrieved August 15, 2011, from
http://www.foodproductdesign.com/news/2011/05/dark-chocolate-benefits-eyesight-brain-health.aspx
Consumption of cocoa flavanols results in an acute... [Physiol Behav. 2011] - PubMed result. National Center for Biotechnology Information. Retrieved August 15, 2011, from
http://www.ncbi.nlm.nih.gov/pubmed/21324330
Cocoa flavanols can improve eye and brain function, study. Confectionery News - News on confectionery. Retrieved August 15, 2011, from http://www.confectionerynews.com/Formulation/Cocoa-flavanols-can-improve-eye-and-brain-function-study/?c=TgbRk5cTmQILj9lnWZnH1Q%253D%253D
For chocolate's true benefits, it's time to ditch the foil and get 'real' | Mail Online. Home | Mail Online. Retrieved August 15, 2011, from
http://www.dailymail.co.uk/health/article-2020555/For-chocolates-true-benefits-time-ditch-foil-real.html?ito=feeds-newsxml
Stephenson, M. Contrast Sensitivity Testing in Eye Exams - AllAboutVision.com. Consumer Guide to Eyes, Eye Care and Vision Correction - LASIK, Contact Lenses and Eyeglasses. Retrieved August 16, 2011, from
http://www.allaboutvision.com/eye-exam/contrast-sensitivity.htm
What Are Flavonoids - Foods with Flavonoids - RealAge. RealAge - Health Tips - Health Assessment and Ways to Live Younger. Retrieved August 16, 2011, from http://www.realage.com/eat-smart/food-and-nutrition/flavonoids
Reviewed August 16, 2011
by Michele Blacksberg R.N.
Edited by Jody Smith