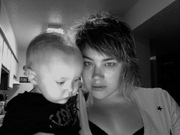 ask:

He wants me to support him, i dont know how.
I am 24years old and my husband and i are the same age. We've been married for 4 years and have a 1yr old son.... not that that matters i guess......
What am i getting at? ..... Well.... My husband has told me numerous times when our relationship is gritty that he has a constant temptation to look at porn. He goes thru periods of months at a time where he is completely uninterested in me, then all of the sudden he's all over me for a week or two. I dont understand it. I was molested as a child and i dont know any other way to feel than that i am the problem. I can't believe that he loves me. He has recently started seeing a psychologist, and he keeps putting words in my mouth that i am unsupportive about this. Im not. He keeps begging me to support him. I dont know how. I feel like on the other end of his journey he is going to find that the only truth is that i am a piece of shit. I want to support him and have something to tell myself. I dont know. Maybe one of you ladies will. Thank You.
Tags