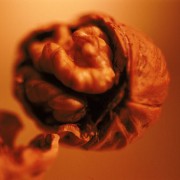 Photo: Getty Images
If you knew just seven walnuts a day could help your heart, would you eat them? A new study showed walnuts provide strong cardiac health benefits by providing a higher quantity and quality of healthful antioxidants than any other nut.
"Walnuts rank above peanuts, almonds, pecans, pistachios and other nuts," said Joe Vinson, Ph.D., who did the analysis. "A handful of walnuts contains almost twice as much antioxidants as an equivalent amount of any other commonly consumed nut. But unfortunately, people don't eat a lot of them. This study suggests that consumers should eat more walnuts as part of a healthy diet." His report was provided this week at the American Chemical Society annual meeting in Anaheim, Calif.
Vinson noted that nuts in general have an unusual combination of nutritional benefits in addition to antioxidants. Nuts contain high-quality protein, vitamins and minerals, dietary fiber, and are dairy- and gluten-free. Years of research by scientists around the world link regular consumption of small amounts of nuts or peanut butter with decreased risk of heart disease, certain kinds of cancer, gallstones, type 2 diabetes and other health problems.
Medical experts agree walnuts, and nuts in general, can support a healthy approach to diet. According to the Mayo Clinic, people who eat nuts as part of a heart-healthy diet can lower the LDL, low-density lipoprotein or "bad," cholesterol level in their blood. High LDL is one of the primary causes of heart disease. Mayo experts also stated that eating nuts may reduce the risk of developing blood clots that can cause a fatal heart attack.
The new study analyzed antioxidants in nine different types of nuts: walnuts, almonds, peanuts, pistachios, hazelnuts, Brazil nuts, cashews, macadamias, and pecans. Walnuts had the highest levels of antioxidants.
Vinson also found that the quality, or potency, of antioxidants present in walnuts was highest among the nuts. Antioxidants in walnuts were two to fifteen times as potent as vitamin E, which is known for antioxidant effects that help protect the body against damaging natural chemicals involved in causing disease.