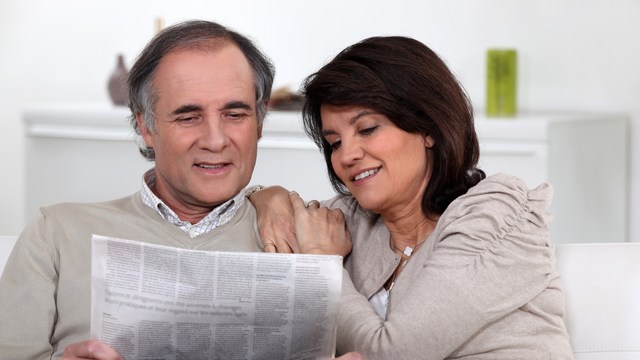 Auremar/PhotoSpin
"Male menopause" is a layman's term used to describe decreasing testosterone levels related to aging. In female menopause, ovulation and hormone production abruptly ends but with men, it's much more gradual.
Dr. Machelle Seibel, editor of My Menopause Magazine and EmpowHER Medical Advisory Board member said, "after about age 30, testosterone normally drops about one to one and half percent a year. So by the time a man is 70, he's going to have about half a much testosterone as he did when he was thirty."
Dr. Irwin Goldstein, also a member of EmpowHER's Medical Board, Director of San Diego Sexual Medicine at Alvarado Hospital and Clinical Professor of Surgery at University of California at San Diego, stated that testosterone, estrogen and progesterone – in both genders – play huge roles in the health of people.
"Which is why we're so healthy when we're adults and why we're not so healthy when we're in our menopausal stages," said Goldstein.
"It's like puberty in reverse," Jed Diamond, author of "Male Menopause" told Discovery Health. "Like puberty, the changes male menopause wreaks in aging men are 'hormonal, psychological, interpersonal, social, sexual and spiritual.'"
Changes in sexual function might include erectile dysfunction, reduced sexual desire, fewer spontaneous erections, and infertility. Patients with low testosterone often experience insomnia and disturbed sleep.
Various physical changes can include increased body fat, reduced muscle bulk, strength and endurance. Men with low testosterone are also at more risk for osteoporosis.
Low testosterone might also contribute to decreased motivation and self-confidence. Men might feel depressed or have trouble with their memory or concentrating.
It's important to note that some of these symptoms are a normal part of aging. Others can be caused by various underlying factors including medication side effects, thyroid problems and depression.
There are multiple, noninvasive treatments available for male menopause which include meditation, eating healthy, being active and getting plenty of sleep.
Another treatment is testosterone replacement therapy. This treatment can be controversial.
"The issue is that testosterone has been associated with both prostate cancer and heart disease," said Seibel. "So it's not just a free ride of treatment. Men should talk with their doctor about the risks and the benefits of it. A man with three stents and a history of prostate cancer would not want to take testosterone even if it might be helpful."
Goldstein believes this therapy has more benefits than risks. "We believe that the risks of hormone therapy are fairly minimal when done appropriately and monitored with frequent blood tests."
Doctors advise that men with any of the above symptoms should be honest with their doctor. They may even consider bringing their wives along. She may be able to help describe any changes that she sees as well.
Sources:
"Is Male Menopause Real?" Scripps Health. N.p., n.d. Web. 15 Dec. 2013.
http://www.scripps.org/news_items/4437-is-male-menopause-real
"Discovery Health." Discovery Fit and Health. N.p., n.d. Web. 15 Dec. 2013.
http://health.howstuffworks.com/wellness/men/health-tips/andropause-dealing-with-male-menopause.htm
Dr. Goldstein, Irwin. Phone interview. 16 Dec. 2013.
"Men's Health." Male Menopause Symptoms, Treatments, Causes, and More. N.p., n.d. Web. 15 Dec. 2013.
http://men.webmd.com/guide/male-menopause?ecd=wnl_sxr_103013&ctr=wnl-sxr-103013_hdln_5&mb=
"Warning Signs of Male Menopause.": Are You at Risk?. N.p., n.d. Web. 15 Dec. 2013.
http://www.healthline.com/health-slideshow/warning-signs-male-menopause
Seibel, MD, Mache. Phone interview. 16 Dec. 2013.
Staff, Mayo. "Male menopause: Myth or reality?" Mayo Clinic. Mayo Foundation for Medical Education and Research, 23 July 2011. Web. 15 Dec. 2013.
http://www.mayoclinic.com/health/male-menopause/MC00058
Reviewed December 18, 2013
by Michele Blacksberg RN
Edited by Jody Smith