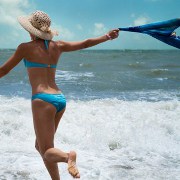 Photo: Getty Images
We all want to enjoy some fun in and sun this summer, but with skin cancer rates on the rise, many of us duck for cover when the intense beams shine down. ELLE.com recently posted an article about the increasing rates of melanoma, especially in American women ages 15 to 39 (the rates doubled over the past 30 years). But before you slather on that sunscreen, consider the real reason for this surge in the skin cancer rates: We might actually be lacking natural sun exposure.
David Fisher, M.D., Ph.D., chairman of the Department of Dermatology at Massachusetts General Hospital, explained that humans need sun and the vitamin D it manufactures in order to survive. We also need to find a "happy medium" when it comes to soaking up rays.
According to the article, "…studies have shown that continuous sun exposure actually protects against (melanoma)…Instead, melanoma is associated with intense, intermittent UV exposure, the type you get from hitting a tanning salon—or a Caribbean beach in December."
The article also revealed the dangers of frequently sunbathing in unnatural rays (i.e., tanning beds) because "58 percent of adolescents who use them get burned," according to research performed by the American Cancer Society.
Holistic health counselor Cynthia Perkins, M.Ed., wrote in an article by holistichelp.net that the cause of increased skin cancer rates over the past 30 years involves "the food we eat and the use of sunscreen."
"After the development of sunscreen, cases of melanoma skyrocketed," Perkins wrote, adding, "Office workers have higher levels of melanoma than construction workers and lifeguards. As a matter of fact, people who spend the most time in the sun, like lifeguards and construction workers, have the lowest incidence of melanoma."
Osteopathic physician Dr. Joseph Mercola suggested in an article by sheknows.com, you should "stay clear of sunscreen" unless you are planning on staying in the sun for a period longer than what's considered safe.
The article revealed, "Sun block also prohibits our skin from naturally absorbing the much-needed vitamin D we receive from the sun's rays, which is imperative to our well-being."
Mercola said the best way to safely absorb sunshine includes allowing yourself to "gradually build up to it," or use some form of clothing and/or shade to protect yourself from intense exposure.
When you do need sunscreen and no other form of sun protection is available, Mercola advised using natural sunscreen that contains none of the following ingredients:
Para amino benzoic acid
Octyl salicyclate
Avobenzone
Oxybenzone
Cinoxate
Padimate O
Dioxybenzone
Phenylbenzimidazole
Homosalate
Sulisobenzone
Menthyl anthranilate
Trolamine salicyclate
Octocrylene
Dioxybenzone
Oxybenzone
Always use your head when it comes to exposing yourself to sunlight. Baking pale skin in the sun or in a tanning bed for long periods of time will still result in painful, unhealthy burns, but according to Mercola, gradual exposure to natural light has numerous benefits. Natural sunlight improves cardiovascular health, cholesterol levels, muscle strength, blood pressure levels, the immune system, kidney function, and dental and bone health.
Don't waste the summer hiding out indoors. Start (safely) reaping the benefits of those vitamin D-packed rays by soaking up some natural sun.
Sources:
http://www.elle.com/Beauty/Health-Fitness/Record-Rates-of-Melanoma
http://www.holistichelp.net/blog/7-reasons-you-shouldnt-use-sunscreen/
http://www.sheknows.com/living/articles/804155/why-you-shouldnt-use-sunscreen
Reviewed July 14, 2011
by Michele Blacksberg R.N.
Edited by Alison Stanton
Kate Kunkel is a journalism student looking to minor in nutrition at Arizona State University. She currently interns for EmpowHER and has a passion for healthy eating and fitness.
Thank you for reading and please feel free to leave a comment!
Tags: