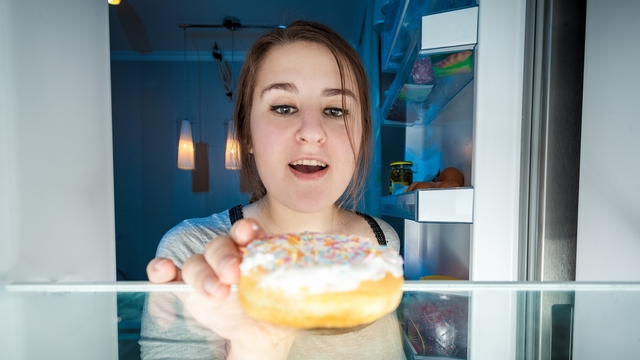 Kyrylo Ryzhov/PhotoSpin
I remember as a kid thinking how silly it was to even consider having a midnight snack, but now I understand how appealing it is to consume a sugary treat in the middle of the night when random cravings kick in.
And some of us adults actually have to work during late-night hours, so we may have to eat at abnormal times in order to function.
But what about the golden weight loss rule – no eating at night or you will gain weight? Is it a myth or is it the truth?
Shane Griffin, a certified nutritional practitioner and CEO of Whole Life Balance, said in an email that whether late-night eating will cause weight gain depends on what you eat and if it affects sleep.
"Our bodies metabolize food better at certain times of the day, rather than at night," Griffin said. "Late night eating can throw off our normal body rhythms and cause us to gain weight."
He said that the appetite-regulating hormone, ghrelin, is "better regulated in the morning," so the risk of overeating during the day is less than at night.
"At night, we usually tend to be less active and so our need for fuel is reduced," Griffin added.
"When we grab the high-sugar, high-fat foods to curb our cravings, since our body doesn't require these excess calories as fuel, the excess blood sugar not used by cells is sent to the liver to be converted into fatty acids."
"If the liver can no longer store it, then those fatty acids are returned to the bloodstream, where it is taken throughout your body and stored as fat," he said.
"Once the popular adipose fat regions of our body are full, namely the stomach, hips, butt, and breasts, the fat begins to accumulate into your organs, such as the heart, liver, and kidneys, which reduces the organ's ability, raises blood pressure, decreases metabolism, and weakens the immune system."
After eating simple carbohydrates, such as candy pastries, the body shuts down its fat-burning process so the sugar can be used for energy, Griffin added.
The hormone insulin makes sure the sugar is placed into muscles until their energy stores are full. Once full, the extra sugar is turned into fat.
Then the process starts all over again thanks to an increased appetite as a result of a delay in stopping insulin production.
Griffin suggested combating this whole situation by eating three to four hours before bedtime, avoiding trigger foods, keeping a food and mood diary, and eating enough protein, healthy fats and vegetables throughout the day.
If you need a snack, Griffin recommends eating an apple with a sprinkle of cinnamon on top, as well as a few raw almonds.
So what does the research say about eating at night? According to a 2011 study published in the journal Obesity, people who went to bed later tended to sleep less and had a higher BMI.
They also ate more food at dinner and after 8 p.m. when compared to "normal sleepers." Their food consisted more often of fast food, full-calorie soda and fewer fruits and vegetables.
Researchers concluded that eating after 8 p.m. may lead to an increased risk for obesity.
However, there are several experts who think it is perfectly fine to eat at night, just as long as you're not overeating.
Dr. Charlie Seltzer, board certified in obesity medicine, said in an email that he actually used to weigh 240 pounds, but was able to lose weight and just recently brought his body fat percentage to just barely over 4 percent.
And the best part is, he was able to accomplish that low body fat percentage while eating his largest meal just before going to sleep.
"Eating at night only causes weight gain if you are eating too many calories overall," Seltzer said. "If you allow for food intake at night as part of your overall plan, you may actually improve weight loss."
Joanne Perez, a registered dietitian nutritionist and owner of Real Bite Nutrition, said in an email that there is no significant evidence suggesting eating at night causes weight gain.
"Of course, you move more during the day so there are more opportunities to burn [calories] off, but your body is still burning calories even as you sleep," Perez said.
"The problem with eating late at night (and the reason why people may gain weight) is that late-night eaters tend to take in more calories for a variety of reasons, such as mindless eating, stress and not eating balanced meals throughout the day."
Sources:
Kelly G. Baron, Kathryn J. Reid, Andrew S. Kern, Phyllis C. Zee. Role of Sleep Timing in Caloric Intake and BMI. Obesity, 2011; DOI: 10.1038/oby.2011.100. Web. December 12, 2014.
http://www.ncbi.nlm.nih.gov/pubmed/21527892
Griffin, Shane. Email interview. December 5, 2014.
http://www.wholelifebalance.com/about-us/our-team
Seltzer, Charlie. Email interview. December 4, 2014.
http://drseltzerweightloss.com/about
Perez, Joanne. Email interview. December 4, 2014.
http://www.realbitenutrition.com/about.html
Reviewed December 12, 2014
by Michele Blacksberg RN
Edited by Jody Smith