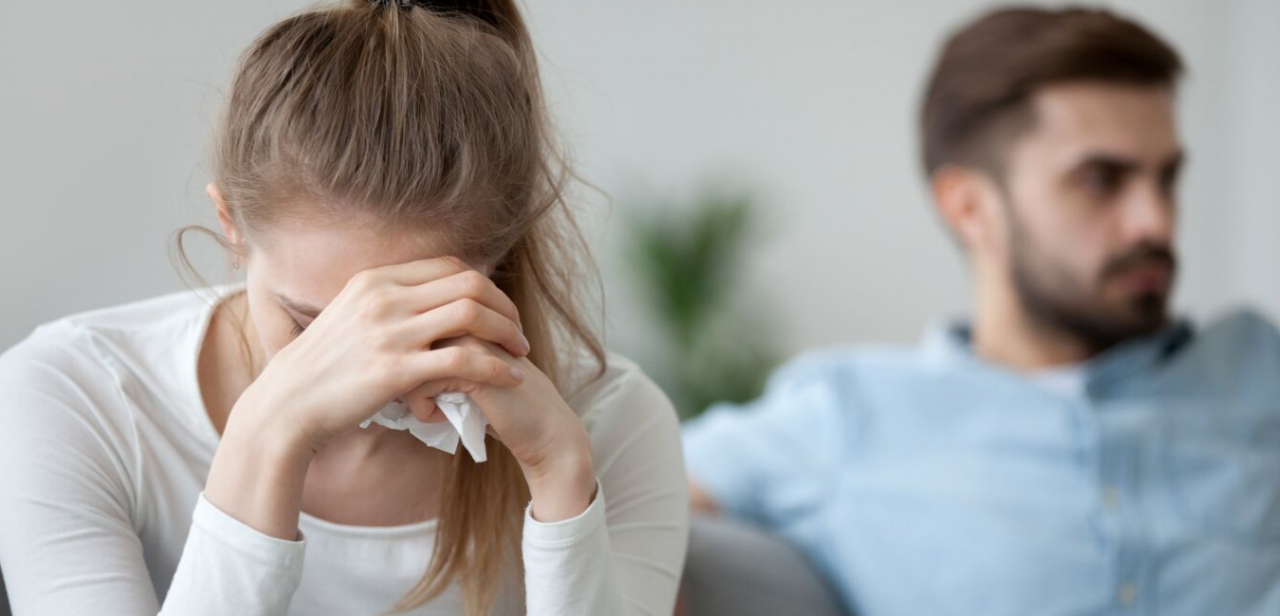 Photo: Photospin - Auremar
Physical and verbal abuse are forms of "visible" abuse. Scars and bruises, raised voices and demeaning and hurtful words are signals to others that something is not quite right in the relationship. It's also easier for a wife to see and recognize that's she's being abused.
Emotional abuse, however, is much more insidious and not quite as visible. Certainly, a wife's self-esteem and spirit are battered along with her body in the case of physical and verbal abuse, but a husband can kill his wife's spirit without even raising a hand or voice against her. For this reason, many women don't even know they're being abused, or if they do it's a long and difficult battle not only to work to repair the damage done themselves, but to get the abuser to recognize the harm that he's done.
What are the signs of mental abuse?
"Emotional abuse is any nonphysical behavior or attitude that controls, intimidates, subjugates, demeans, punishes or isolates another person by using degradation, humiliation or fear" (www.focusonthefamily.com).
"Nonphysical behavior or attitude" can safely be interpreted to mean neglect, invalidating another's thoughts and feelings, and refusing to acknowledge the needs of the other (whether intentionally or not). Over a period of time, this kind of emotional climate in a marriage can squeeze the life out of a marriage and out of a wife.
There is a difference between experiencing or inflicting emotional hurt and being emotionally abusive—it is important to make this distinction. Abuse is a cycle. It is not a once-in-a-while event that happens and hurts someone else. In many "ordinary" hurtful cases, apologies can be offered if truly sincere and heal the rift that the hurt has caused. Many hurts are unintentional, and if they were, there is (hopefully) remorse on the part of the person who inflicted that hurt, once the anger, frustration, etc., calms down and cooler heads prevail. With emotional abuse there is none of this. Like other forms of abuse, there can be apologies and promises to never do it again, and there is hope in the beginning that behaviors and attitudes will change—often referred to as the "honeymoon phase"—but somewhere in the back of many a wife's mind, she knows that it's only a matter of time before the abuser settles back into old routines.
The Profile of an Emotional Abuser
At the heart of an emotionally abusive husband is his need to ultimately be in control. He feels inadequate and harbors distorted beliefs about women and marriage, usually learned from an abusive father or other dominant male influence, or sometime due to lack of decent male role modeling in how to treat women. In many cases, but not all, an emotionally abusive husband can be manipulative and heavy-handed in keeping his wife "under his thumb". The abusive husband is "self-referenced", which means he only sees and considers things from his point of view; he deliberately refuses to or is incapable of looking at things from another's perspective. "Selfish" and "self-referenced" are two different words and can be described this way: the "self-referenced person would give you the shirt off his back, but he doesn't know you need it. The self-referenced person frequently violates the marriage partnership by acting without thoughtfully considering his partner's point of view and needs" (Amy Wildman White). The abusive husband is also emotionally dependent on his wife; that is, his feeling of self-worth comes from being married. Most emotionally abusive husbands are unable to look at and examine themselves and why they engage in such spirit-killing behavior against a person they have avowed to love and cherish.
The Profile of an Emotionally Abused Wife
Women who find themselves in an emotionally abusive situation often have low self-esteems even though they may appear confident and in control of everything. An emotionally abused wife "looks to her husband's acceptance of her as the measure of her worth" (White).
Unlike a man, who typically finds his identity through work, and academic or athletic achievement, "[a] woman's identity is often based on her relationships" (White) this makes her vulnerable to abusive relationships.
One of the most common characteristics of an emotionally abused woman is that she is unable to enjoy sexual experiences with her husband. This is due to the deterioration of the trust and the lack of friendship and intimacy over the time of the relationship. Add on top of this societies', her husbands' and the church's views that she's not a good wife if she doesn't meet her husband's sexual needs and she may feel perpetually trapped in her marriage. What many people (including counselors and pastors) fail to realize is that "[t]he wife in these situations experiences intercourse as an indignity, almost as rape, because the physical and the deeply personal, loving aspects of sex…[i]ntimacy and trust, which lay the necessary foundation for a woman to respond sexually, have been removed from the relationship" (White) and she is left to emotionally detach herself from the situation just to survive—at the cost of her soul and spirit.
Call to Action
It's time to lift the veil from these situations and recognize how much a person's soul and spirit can be damaged without physical and verbal abuse. Abuse doesn't have to come in the form of acting out a form of punishment, or lashing out with temper and words. Abuse can also be withholding affection, or never saying a kind word. It takes a strong woman to stand up against what everyone is telling her is her duty and recognize that this kind of situation is not okay, and to talk about it until somebody listens.
If you believe you are in an emotionally abusive marriage—which can take many forms to keep a wife dependant on a husband (a virtual prisoner in her own house)—or you're not even sure if what you're experiencing is emotional abuse, please join us in the Marital Discovery and Recovery group and share your story.
Sources: www.focusonthefamily.com; "The Silent Killer of Christian Marriages" by Amy Wildman White (http://www.safeplaceministries.com/pdf/The Silent Killer of Christian Marriages.pdf)