BodyMedia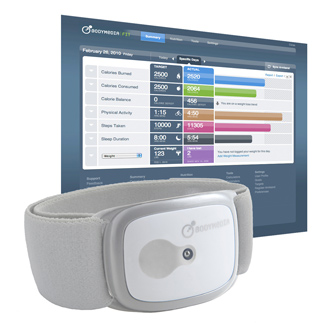 Make 2012 your healthiest year yet with the EmpowHER BodyMedia FITness Challenge! Join us in following the lives of six women bloggers as they track towards their fitness goals outfitted with the incredible BodyMedia FIT system.
All BodyMedia FIT Armbands use four sophisticated sensors to capture over 5,000 data points per minute to track everything from calories burned, steps taken and levels of physical activity to sleep. BodyMedia FIT Armbands give you the most accurate calorie burn in the market, and the technology used in the BodyMedia system has been clinically proven to improve weight loss by 3x*! Each blogger will better understand the impact of their diet and health choices on their lifestyle, empowering them to make a difference in their health and wellness.
So, how can YOU get involved?
1. Follow these bloggers week-by-week and cheer them on with comments on their posts throughout the challenge;
2. Join the bloggers in the challenge by purchasing a BodyMedia FIT to start tracking your body and share your own story with the EmpowHER community!
3. Shout out the EmpowHER BodyMedia FIT Challenge to your social networks on Facebook and Twitter to get your friends on the road to fitness with you!
*Data on file with BodyMedia
It's finally over: My 6 week EmpowHER BodyMedia FITness Challange is done. Time sure flies, huh? So, my goal for this challenge was to test out the BodyMedia FIT and use it to reach my own personal fitness goals--which, in this case, was to walk everyday, have more active weekends, and walk at least 8000 steps per day.
View Ann's Week 6 Post
Today is my final weekly update for the EmpowHER BodyMedia FITness Challenge. What started out as an effort to work out harder, eat cleaner, and sleep better turned into chronicles of health issues galore. Sometimes a healthy quest has some deep valleys to traverse before climbing to new peaks. I'm still down in the valley.
View Barbara's Week 6 Post
We've come to the end of the six week EmpowHER BodyMedia FITness Challenge! Time sure does fly when you're having fun - or when you're participating in a nationwide blogger's challenge! As I mentioned last week, this challenge did not go as I had originally planned. When I started I had not been diagnosed with my overuse injuries and I was still training for the Rock 'n Roll Half Marathon (which is this weekend).
View Emily's Week 6 Post
I have a quick break between all the madness of the conference I'm at so I thought I would do my last BodyMedia update! It's the end of the six week challenge and I have SUCH a better understanding of my body what it is doing throughout the day and night, and that is so very helpful when you are trying to stay in shape. Here are a few of my stats from today, and it's only 3:30pm!
View Brittany's Week 6 Post
Wow, time sure does fly by. This week completes the EmpowHER BodyMedia FITness Challenge. It's been a great experience and I am more than pleased with my results! First I'd like to share my overall personal bests from the challenge. The one I am most proud of is doing over 20,000 steps on February 29th.
View Kristen's Week 6 Post
Wow I can't believe the BodyMedia FITness challenge is officially over! Six weeks sure flew by. Wearing the armband and collecting data about my movements and habits for the last six weeks has been really eye opening and I wanted to share some of the lessons I've learned.
View Jess's Week 6 Post